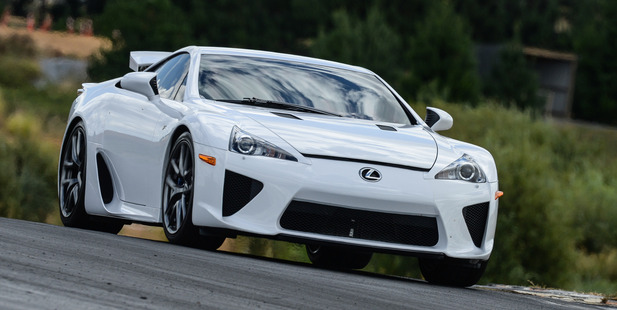 This Lexus LFA supercar is number 496 of just 500 built and is on loan from Lexus Singapore. Photo / Supplied
I'm lucky to sample some of the best cars that make it to our shores, and 2015 has started off with a bang with some incredibly rare and expensive cars.
While we mainly focus on driving on the road, where let's face it, the majority of cars spend their time, some cars just can't be understood until you hit the racetrack to truly appreciate what they're capable of.
Enter the Lexus LFA.
With only two of the 500 examples of the LFA ever imported to New Zealand, Toyota and Lexus New Zealand borrowed LFA #496/500 from owners, Lexus Singapore, for a couple of months to display and demonstrate the Lexus supercar during the Toyota 86 Championship series.
Unlike other supercars that feature wide carbon-fibre tubs that make getting in and out an experience in itself, the Lexus is much more restrained with distinctly Japanese DNA dictating form following function, which thankfully makes getting in and out of the LFA much more like an everyday car.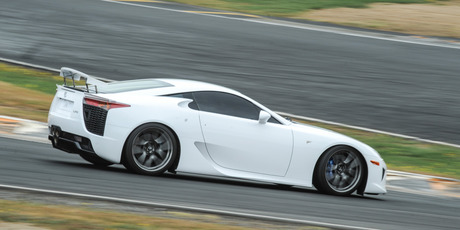 Gallery
Lexus LFA Supercar

Being hand built by a workforce of only 175, the LFA is an impressive piece of kit.
A wide white wedge that looks both menacing and beautiful at the same time.
Sam MacNeill from Toyota New Zealand, is the only person lucky enough to drive the LFA 496 while it resides on our shores.
"It was a bit of right place right time" MacNeill says in regards to securing the drive of the LFA.
"I'd heard a bit of a rumour that it was coming out and with my previous involvement with the racing and already being at the racing meetings anyway, I just put my hand up and said 'how about me?'"
"There was some criteria in terms of insurance and things like that, I had to have an international race licence which fortunately I had from my Toyota Racing Series days so I got the call up" Said MacNeill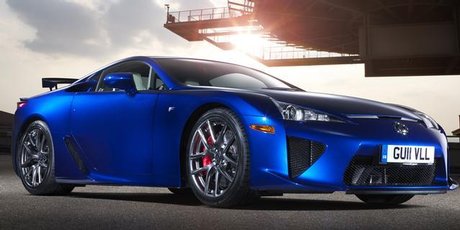 Gallery
Lexus LFA

Sitting inside there is notably and absence of any form of cup holder as a reader pointed out on Driven's Facebook page, a subtle hint at what the LFA wasn't built for Grand Touring down highways, this is a drivers car.
Sure it is one of the most useable daily supercars you can possibly find, but under the carbon-fibre body is an 4.8-litre V10 built in the factory that once built Toyota's Formula One engines, so you know this supercar has the pedigree to take it to the track and deliver.
"The LFA is neatral in terms of its balance, the only thing that holds it back is its on road tyres." Says MacNeill.
"It's halfway between a track car and a race car"
The hand built V10 is just waiting to scream its way to the redline, which reputedly happens in 6/10ths of a second.
As we make our way to the track a feeling of anticipation takes over me.
This is very different to the last car I was lucky enough to be on track with Sam in and every bone in my body can feel it.

Lexus LFA in car footage
Mathieu Day reacts to the Lexus LFA
As we exit the pit lane and enter the track proper, Sam jumps on the throttle and we're off for the best two laps of Hampton Downs I've ever had.
As we exit turn two all I can blurt out is "wow". It really is a much different experience to riding in a supercar on public roads. It is much, much better.
Sure I'm not driving, but the experience of sitting in a rare, $1 million plus Lexus going full tilt around my local race track is something I'm not going to forget
And the highlight for the LFA's kiwi driver?
"When I go away from the track after driving it the thing that just keeps coming back into my mind is the noise, that V10 screaming is just unbelieveable."
That sums it up nicely. It may not have cup holders, but the LFA needs to be heard at full chap to be truly appreciated.
This example won't be in the country much longer, with its final appearances slated for the final two rounds of the Toyota Finance 86 Championship. If you're anywhere near it's at the TRS rounds this weekend (Taupo Feb 7-8) and at the Grand Prix (Manfeild Feb 14-15) next weekend. It's definitely worth an up close look.